K1000 Alkaline Energy Water Filter System
RM 980.00
RM 420.00
---
Brand:
Korea
Quality Alkaline water for your every kitchen need. Drinking, Rinsing, Cooking. Water Purifiers & Filters

Dimensions ( L x W x H ) :
90 Millimeter x 315 Millimeter x 310 Millimeter
Ship In :
3-7 working days
Warranty :
1 Years
Free Delivery
Free Installation (Klang Valley)
Questions? We can help
+6016 343 1031
Or Whatsapp us
MON–FRI: 8AM–6PM UTC+08:00
SAT: 9AM–5PM UTC+08:00
---
Imported from KOREA
Functions : Alkaline water
Can be used in two difference environment. Undersink or counter-top.
Eco-friendly system
Noiseless
Exhalent valve and nozzle
No electric power required.
Long life of filter
Alarm and lighting
Combination of 3 technologies - Nano, Silver and Hidrogen
1. Clean and Safe water: Water that is free from bacteria, microorganisms, chlorine, impurities, pesticides, volatile organic chemicals and heavy metal.
2. Nourishing: Provides the body with essential minerals such as calcium, zinc, magnesium and iron.
3. Balances body pH: Alkaline water that contains minerals which help to balance the body's pH.
4. Readily absorbed: Smaller clusters of water molecules that helps improve hydration and the delivery of nutrients at cellular level.
5. Facial cleansing: Facial cleansing is the most important step of skin care routine. Smaller cluster of water molecules penetrates deeper into skin for a better facial cleansing.
Product details of Alkaline Water System K1000 Black Color
This made in Korea Alkaline Water System is not only water filter, but also transform the purified water to become mild alkaline at pH value of 8.5. K1000 can be used in two different types according to installation environment; under sink and counter-top.
It comes with 8" four stages of filtration which is Sediment, Pre Carbon, Alkaline Ball and Post Carbon. Eco-friendly system, noiseless and no electric power required. The design is the most compact size to suit to any size of kitchen. You can enjoy healthy alkaline water right from your kitchen tap.
Filter 1- 8" Sediment Filter (U Type- Approx 4 Months)
Sediment filter maximizes the water purification effects from initial stage by removing completely various settings, microorganism, oxidized substance to include rust, dirt, sand, dust and microscopic impurities.
Filter 2- 8" Pre-Carbon Filter (U Type- Approx 12 Months)
This Pre-Carbon Filter designed for removal such as residual chlorine, pigments, taste, odors, detergents, heavy metals & other impurities.
Filter 3- 8" Alkaline Filter (U Type- Approx 12 Months)
To enhance minerals absorption for our body, detoxifies wastes accumulated in our body and regulates body pH balance to mild alkaline.
Filter 4- 8" Post-Carbon Filter (U Type- Approx 12 Months)
This filter is a compressed granulate form of high absorption function. This filter absorb ethylene dichloride, bleach, pesticide, chlorine, odors, color, harmful chemical materials and haloform.
How to change filter in water purifier?
The inside filter of newly purchased product needs to be cleaned by getting through water. It makes more water flow out of the product and better efficiency.
Close water valve that is connected to water pipe.
Check the connecting status of filter (for the purpose of reassembling).
Disassembling all filters from water purifier (refer to the method of disassembling elbow).
Connect filter and hose that is linked to water valve directly (do the same way for other 4 filters).
Get through water to filter after opened water valve that is linked to water pipe.
Clean and replace new filters in condition of direct connect to water valve when you change filter.
It flow dark water when you clean charcoal filter. Feel safe as this is a normal phenomenon not inferiority.Use it after ran through more than 2 liters water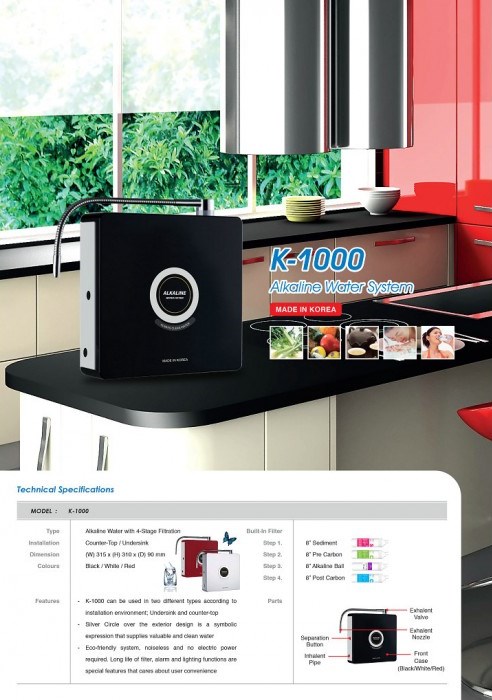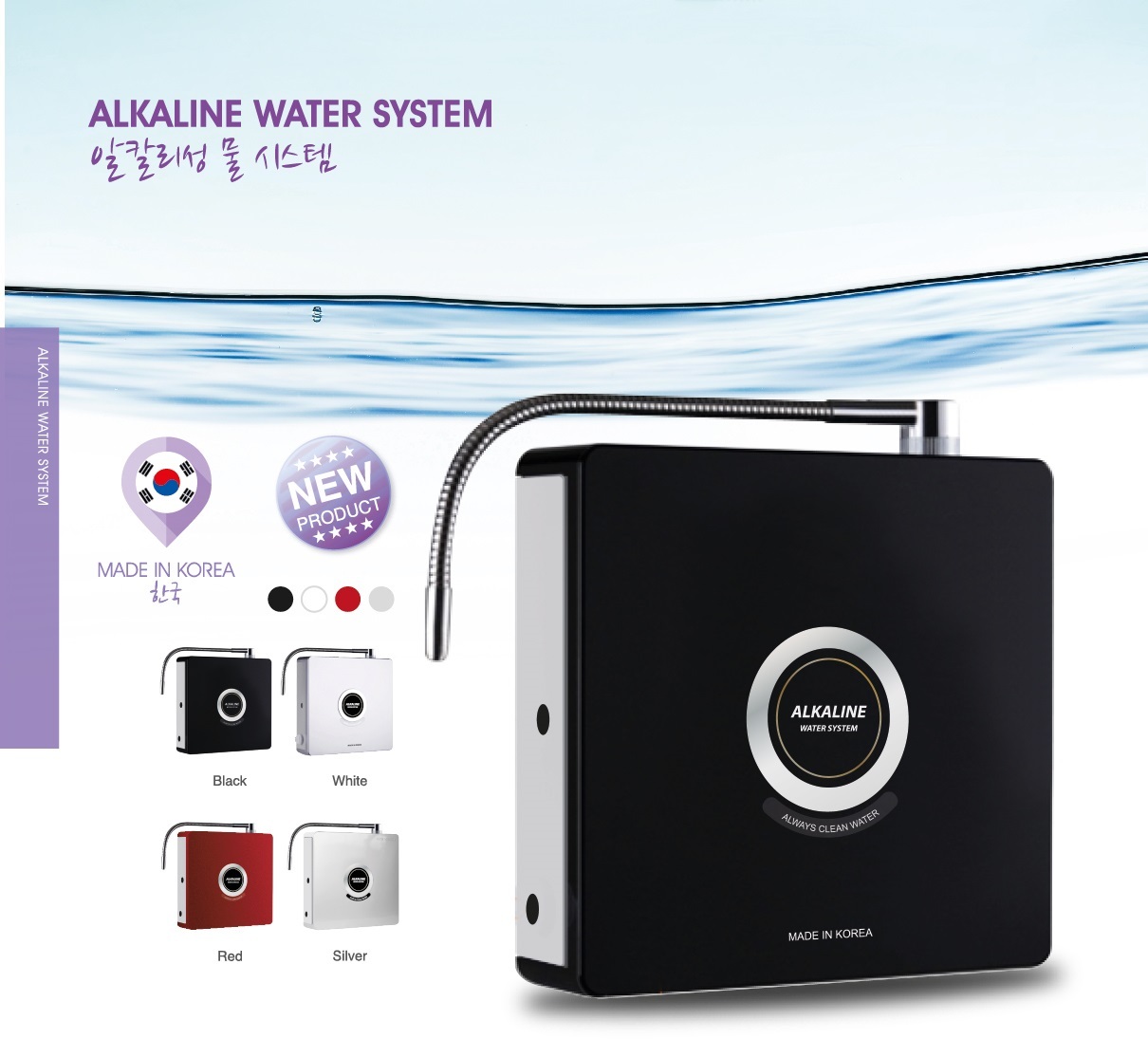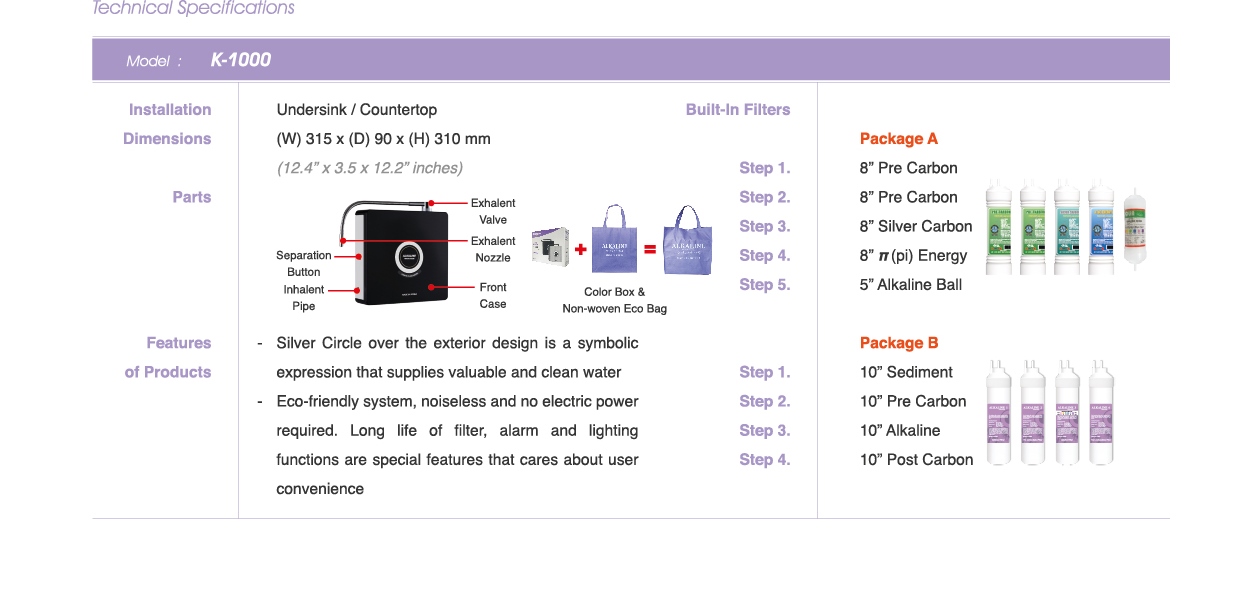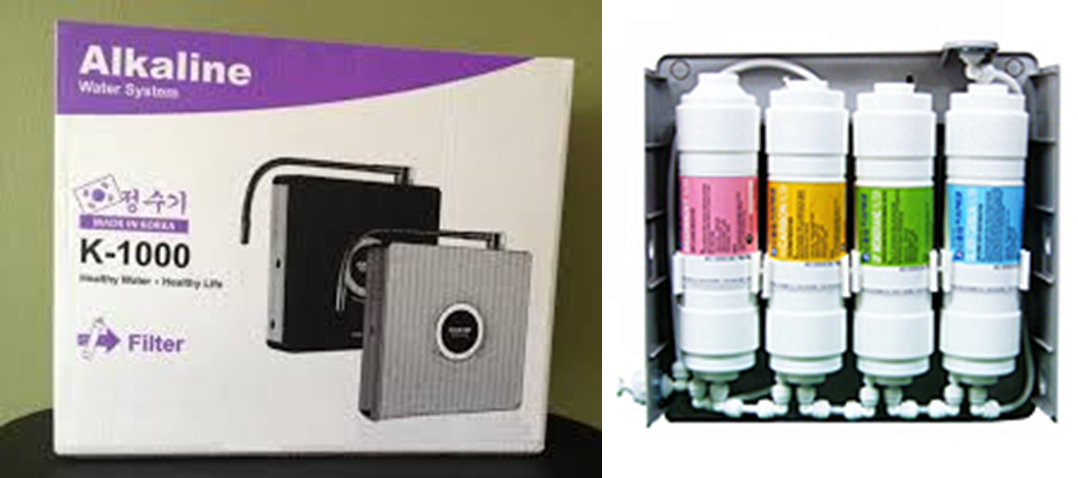 Available Date : 9/11/2016