Korea 11" Magic UF 4 Water Filters Cartridge Set
RM 460.00
RM 380.00
---
Can be used for any type of water dispensers with "U" type such as Tong Yang water dispenser, Magic water dispenser.
Ship In :
3-5 working days
Warranty :
1 Years
Free Delivery
Free Installation (Klang Valley)
Questions? We can help
+6016 343 1031
Or Whatsapp us
MON–FRI: 8AM–6PM UTC+08:00
SAT: 9AM–5PM UTC+08:00
---
Product details of Magic UF Filter Set 4 Filters 11"(Korea)
Magic UF Filter Set 11" consists of 4pcs of filters such as Plus Sediment, Pre-Carbon, UF Membrane and Post Carbon
Plus Sediment filter removes contaminants such as dirt, sand, mud & soil out of tap water
Pre-Carbon filter removes residual of odor taste chlorine & organic chemical out of tap water.
UF Membrane filter remove viruses, bacteria, as well as fine suspensions from your drinking water and keep the good minerals you want in the water
Post Carbon filter removes odor-causing substances, meanwhile Silver ions have been added to prevent the breeding of microorganisms and improve water taste
Being used for Floor Standing Type of Water Dispensers
Can be used for any type of water dispensers with "U" type such as Tong Yang Dispenser, Magic Dispenser, etc
PINK: Sediment Filter
Removing large particles dirt, dust scale, silt and unseen suspended matter.
GREEN: Pre-Carbon Filter
It can slight trace of heavy metals, radiation material, chemical and chemical residues from agricultural, and then water molecules would be more softener.
BLUE: POST Carbon FILTER
To removing chlorine and organic materials from water, the culture active carbon in these filter stand up the absorption common in this kind of filter, and it provides final filtration and produces almost 100% pure water.
Orange: UF Membrane FILTER
Has as small as 0.05 ~ 0.3 micron pore size is well suited to remove bacteria, clay, particle, materials. However the containing minerals in water pass through UF membrane filter has a superior water purification capability.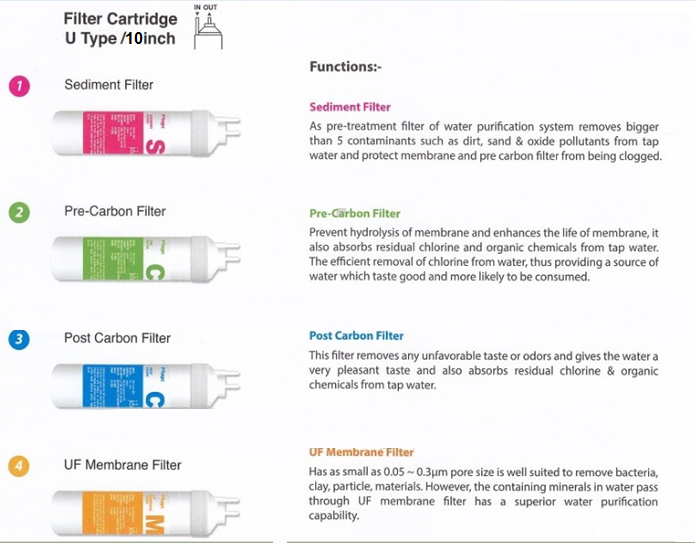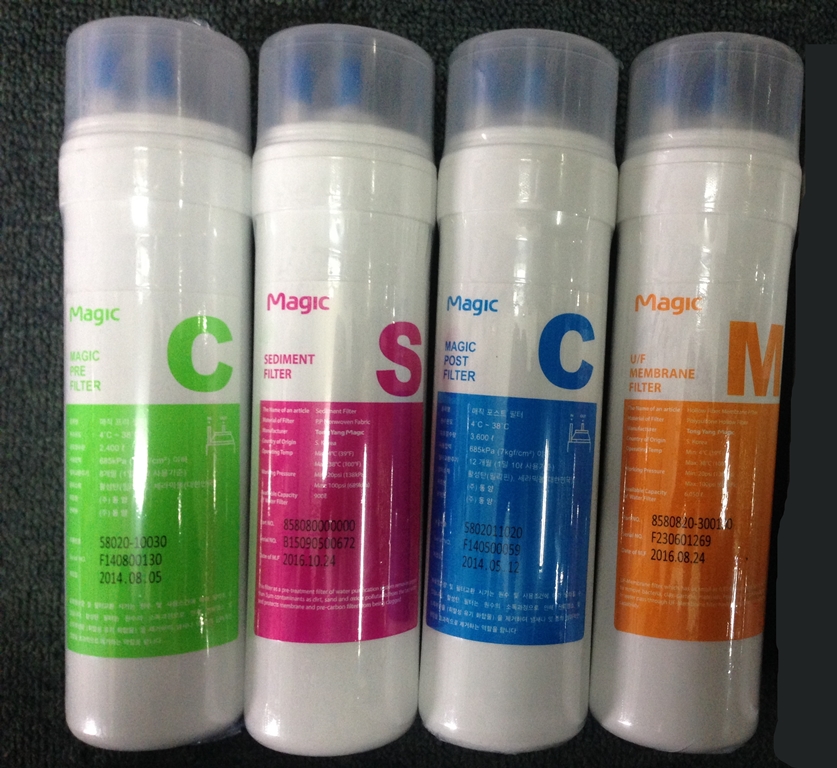 Available Date : 7/12/2016